What Butt Machine Boys offers you
Overview
The Butt Machine Boys gay porn web site is a slightly odd concept, a hot guy in a solo encounter with a machine powered dildo. The first thing to say is that the scenes are surprisingly hot and sexy. That really should not be a surprise because this porn web site is brought to us by Van Darkholme and the men at Kink Studios, absolute masters in creating quality gay porn. I love a sex toy, a big rubbery cock shaped dildo or a butt plug just as much as the next guy, but the evil geniuses at Kink Studios have mounted these dildos on to machines, the hot oiled up guys just have to lie there and take it and the machine powered dildo fucks them mercilessly.
The site lets you watch a preview video if I am not explaining that very well, but let me try and paint a picture. Hot athletic jock Jake Woods is scrubbing down in the shower. He wants to get really clean so we watch him take a douche and make sure he is spotless inside and out. It is kind of weird watching a guy douche himself, but it is kind of hot too. We then cut to sexy stud Jake lying on a table and the machine powered dildo is inserted in his ass and begins to build up a fucking motion. It is clearly pushing all of Jake's buttons because he is squirming and writhing with pleasure. Once the machine takes control you just have to let it fuck you until it makes you cum. It is a simple concept but surprisingly sexy to watch.
Design & Features
Your membership gives you access to over 160 different video shoots which equates to nearly 70 hours of porn. There are also over thirty thousand photos that you get. Content is updated every week and the footage is available in High Definition. There are four subscription membership options available:
$49.99 – 1 Month Membership
$99.99 – 3 Months Membership
$319.99 – 1 Year Membership
Payment can be made by credit card or online check. The biggest savings on the membership fees are when you take out a twelve month membership. In addition to giving you all of the content on the Butt Machine Boys gay porn web site, your membership also gives you access to the Men On Edge web site, so that is effectively two porn sites for the price of one.
Boys & Videos
I love getting to know the models a bit, so the interviews with the models always intrigue me, especially when they are talking about their encounter with the butt fucking machine, generally they seem a little surprised and overwhelmed by how much they have enjoyed it. As a viewer I think the turn-on here is that the guy is not in control, he is at the mercy of the butt fucking machine, so in that sense it is classic bondage and discipline BDSM, you have to give yourself up to, enjoy the sensation of someone or something else being charge and taking control of delivering you the pleasure you're seeking.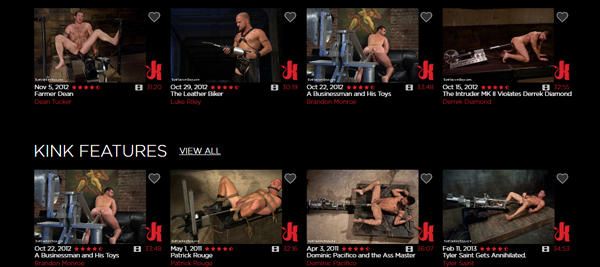 Conclusion
The Butt Machine Boys gay porn web site is quality material for all of your jack off fantasies. Grease up, grab your favourite sex toy, and join in the fun, mercilessly slamming a dildo into your own hole while you are watching the hot athletic Butt Machine Boys give their asses up the machines for your viewing pleasure.