What Czech Taxi offers you
Overview
You really need to be the first one to see what this premium porn site is all about. The reason being it is one of the latest sites in the internet today. Czech Taxi explores the possibility of having hot scenes unfolding in a tax. They have installed hidden cameras in a cash cab that captures the hot scenes that happen in the car. Therefore before you get into a cab and start getting naked you have to be keen. The site is the home to those who like hot scenes inside their cars. It will definitely remind you on the quickies you have received in your car.
Design & Features
The whole team behind this idea are very dedicated individual whose main aim is to provide unique and entertaining videos. Czech Taxi is neatly arranged and it is the only place where you can have the footage as it is captured by the hidden cameras in the cab. It is a site that is months old but they are doing great job. The designer has adopted a very eye-catching design with a user-friendly interface. Yet there is no much to watch but navigating around the available content is very simple. First the videos are just in the home page and they are dated so getting the latest updates is very easy.
For now you will have only eight videos that can be directly streamed from the site. The streaming is so smooth and it can be done using embedded flash player. What really made me like the streaming is, you can jump forward or backward without waiting for the videos to buffer. The videos can also be downloaded in in mp4 files that gives high-quality play backs. The flicks that are in high definition can only be downloaded using the hd windows media format. Though there are only eight videos as mentioned early they are more than 30 minutes long to ensure that you enjoy your porn to the maximum.
Girls & Videos
Mostly the scenes start with a cabbie picking a very gorgeous lady to deliver her to her destination. On the way they have a chat and the driver convinces her to get naked for him and then leading to a stunning scene. It is unfortunate that the chatting is not in English but the availability of sub-titles is encouraging. The girls are filmed without noticing as the cameras are hidden in the cab.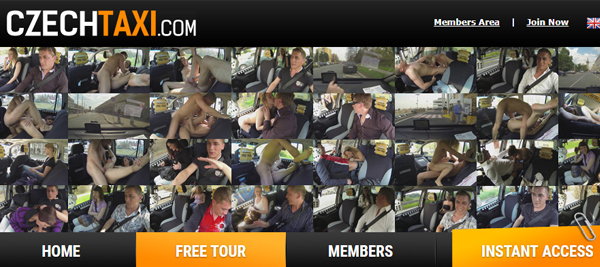 Conclusion
This is a young site that is very promising. It is rising very fast. They keep on updating their content but for now it is not easy to tell the update schedule but at least in every week you have something new to watch. Since the site is from Czech Av there are 20+ bonus porn sites from this network that you can access to get more content. You will visit sites such as Czech Casting, Czech Mega Swingers and Czech Streets. Czech Taxi does not offer any trial option you can only access the content via a monthly price at $29.95. A 90 days price at $90 and 180 days price at 99.95. Czech Taxy is a is a new paid porn site and I am sure you will not regret.
Czech Taxi Discounts
If you drool over the stuff Czech Taxi provides you with, you should be excited to realize that we give away a deal to get access to it, but, there are several other pornsites offering top-notch deals like for instance on Bestpornpay.com you can get a favorable Czech Taxi discount and Topporn.net likewise delivers nice and up to date Czech Taxi discount.