What Got2Pee offers you
Overview
If you're like us and you like watersports and piss play, do you find it hard to find decent quality scenes with gorgeous girls? Let's face it, many of the pissing websites have old archived content with ugly models. You know we're right! With Got2Pee, it's a whole different ball game and this site is like something we've never seen before on the Internet, i consider it one of the best pay porn sites in the world.
Got2Pee is a new concept and features some seriously hot European girls, as they piss outside and in public. Many of these girls pee while people or traffic go past and they really couldn't give a toss who is watching them! This site specialises in outdoor and public pissing movies and as such, this means that many of them are a bit shorter in length than you'd normally get on a pornsite, but girls can't continually pee for 30 minutes, so expect a few minutes of action for each update.
Design & Features
The Got2Pee producers make up for this by adding regular updates. You'll get 5 a week, one each day between Monday to Friday and there's a nice selection of girls and locations too. Some even have more than one girl peeing at the same time and we think that's pretty damn impressive!
Watch hot girls peeing in the park, next to the river, at train stations and by the side of a busy road. The public pissing aspect of this site is seriously hot and unlike anything we've seen on other websites. There's even a bunch of night vision style movies filmed too which add to the authenticity of each scene. Scenes generally start with a sexy girl walking to the location where she is going to pee. The majority of these scenes are filmed in the city, but there are some countryside locations too. Showing off their pussies, these girls either stand, or squat while they relieve themselves and there is even some piss desperation going on here too.
Once you get into the Got2Pee members area, you'll see the latest videos that have been added, along with the next 5 updates that will be coming soon. You can view each update either online via streaming through your internet browser or if you want to download it and save it for later, you can choose between a number of different qualities of mp4. This means it's 100% mobile and tablet friendly. Each scene has a number of tags associated with it, so if it's just public pissing you want, or only teens, click on a tag and you'll be taken to other scenes that match your request.
Girls & Videos
There are no photo galleries here, but you'll get a bunch of screen grabs from most updates. This is great if you like stills, but let's face it, this site is all about the video and Got2Pee have got that nailed. You won't find any model directories here, but you'll notice that a lot of the girls are unknown models. Some familiar faces do appear with a number of regulars too, see if you can find them! You can save scenes to your favourites list when you become a member to save you searching through archives, and since there are 5 updates a week, they add up pretty quickly.
Another awesome feature inside the Got2Pee members' area are some exclusive discounts to other sites. Many of these are in the watersports niche, but you'll find a nice selection of hardcore here too if you're looking for a deal.
The Got2Pee members' area is pretty easy to use, with the navigation going along the top, and movies all shown below. You can sort between latest videos, most rated or featured but we find the latest videos is the best choice to see all of their newest scenes.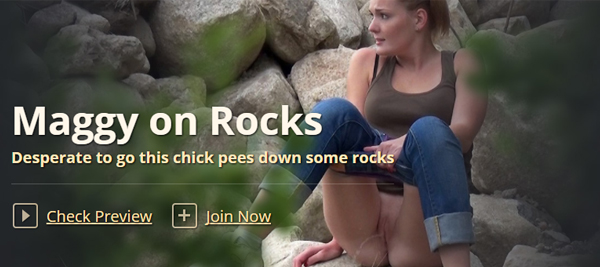 Conclusion
Joining Got2Pee will cost you $24.95 for one months' access. You can save even more money by subscribing for longer, a three months membership costs just $59.95 and a six month membership is $89.99. Payments are through Epoch which are one of the industry leaders for card processing so you know your details will be safe. If you're looking for something completely different in the watersports niche, try Got2Pee where you can watch gorgeous girls as they pee in all sorts of locations!
Get your discount!
$12.49
instead of
$24.95