What Mean Massage offers you
Overview
Mean Massage is an adult entertainment site that caters for fans of femdom play and particularly femdom massage and hand-jobs. All the content on the site is exclusive and includes images and videos. To be a member, you need to pay a recurring reasonably priced monthly fee or a 3 month non recurring fee.
Design & Features
The site has a plain and basic design with a black background filled with thumbnails. These thumbnails serve as previews to the photo and video content on the site. The site has several sections that make navigation easy. There is no search function, but the scenes are appropriately tagged.
The main menu section has several options that will make it easier to go through the content uploaded on the site. There is an update section. This section contains all the latest videos. There are several pages in this section and the pages are numbered, you can skip to the page you want by clicking on the page number. You may also click the models section to choose content based on the model you fancy. The pages in this section are ordered alphabetically. If you know the name of the model you may simply click on the appropriate page.
There are more than 30 movie scenes uploaded to date. The scenes are in MP4 format and can be downloaded or streamed online. All the scenes have short descriptions and photos to give you an idea of what is happening in each of the movie scenes. The videos play at 3000k and all of them are 720 HD. There are more than 35 photo galleries. Each gallery has more than 100 images in it. You can download all the images into a zip file. There are no download restrictions.
Girls & Videos
The girls on mean massage are amateurs or at least that is how it has been advertised on the site. The girls are hot, sexy and confident and it appears that they are indeed amateurs. They are femdoms who have all the confidence and the personality to turn men into their submissive slaves.
The movies and the photo sets all follow the pretty much the same storyline. It starts with a man receiving an innocent massage. The man is completely oblivious of what the intention of the femdom is. They start teasing the guys and the guys who were a little surprised at first end up feeling a little comfortable. The girls then play around with their cocks and they end up coming hard on the femdom's hand.
Some femdoms are cruel while others are more playful and like teasing their slaves. Some of the more cruel femdoms prefer to tie up their slaves and blindfold them. Sometimes they use whips to tease their cocks, until they are throbbing and yearning to be stroked. Femdoms also like to tease their cocks a little bit. They play with them until they are just about to cum and they stop. This leaves most of the guys weak with desperation.
All the movie scenes are in a massage parlour setting, but there is some variation to almost every scene. In some scenes, the dommes are fully clothed while in others they are nude. Sometimes they use their hand and at other times they use their tits to bring their slaves to a mind blowing orgasm.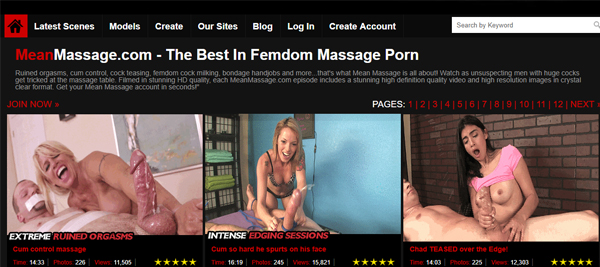 Conclusion
The premium porn site is, among all the list of websites we have reviewed, ideal for people who love watching dommes give hand jobs to helpless male slaves. The site is new, so they are still trying to catch up. However, the site has high resolution photos and all the videos are in HD. You can also get full access with their paid trial account for two days.
Mean Massage Discounts
If you are crazy about the scenes Mean Massage proposes, you will feel delighted to realize that we make available a voucher to access it, even though there are several other websites giving away worthy deals for example on Xxxreports.com you can benefit of a favorable Mean Massage discount and Paidpornsites.net likewise gives away nice and brand new Mean Massage discount.
Get your discount!
$7.90
instead of
$29.90