What Sarava Productions offers you
Overview
Sarava Productions is an amazing porn site with a huge collection of hot hunks in hardcore action. If you are in the mood for gay porn movies that feature muscular guys, give this site a try. As long as you subscribe, you get exclusive access to hundreds of high-quality videos and images.
Design & Features
Sarava Productions has a very sleek and user-friendly design. At the home page, you can see lots of large video thumbnails that give you an idea of what to expect once you sign up. You can see several tabs at the top of the page that will bring you to the different sections of the site. You can directly log on to your account here, or click on the Instant Access icon to join the site.
The site organizes its videos in a grid, with the latest releases at the very top. You can also view the video collection according to several filter options such as muscle, condomless, cut, uncut, threeway, and many more. This is an easy way to browse the site's movies, especially when you're looking for a specific scene to watch. The videos have large thumbnail pictures and include a brief description of what a particular scene is all about. The names of the models are also highlighted, with links to all of their scenes. You can assign some stars to videos you've watch according to how you like them.
Boys & Videos
People come to this site to enjoy the works of popular gay porn director Kristen Bjorn. If you are a big fan of his work, subscribing to this site should be worth your time and money. Here, you can expect to see the hottest actors, who are mostly of athletic or muscular built. Some of them are quite hairy, while others are clean-shaven. There are also some who have colourful tattoos on their bodies, and a good number of them have piercings. The site has a dedicated model section that you can easily view by scrolling down the page. There's a nice mix of Caucasian, Black, and Latino men in this site.
Sarava Productions has a large collection of uncensored gay porn videos. With your subscription, you get access to over 489 hardcore movies. Each video has an average length of 24 minutes. Although the site only offers streaming in MP4 format, you can watch the scenes in full HD. In case your media player is not capable enough, you can also enjoy the scenes in lighter SD versions. The best thing about these videos is the fact that they are all DRM-free, which means no restriction on your online viewing. They are also compatible in most mobile devices, so you can watch all of the movies wherever you are.
For those who are fond of collecting hardcore pictures, the site has a decent photo collection that you can easily download in zip files. If you want, you can also pick specific photos and download them individually. All in all, there are 47 image galleries in the site. Most of these images are available in 640×950, but the newer ones are in high 1365×2048 resolution.
All you need to do to enjoy all of the site's videos and images is to subscribe to the site. Sarava Productions offers 3 membership plans plus a three-day limited trial to interested persons. You can buy membership using credit card or Paypal. You don't need to worry about possible leakage of your personal data because the payment method is confidential. You can also expect 24/7 technical support.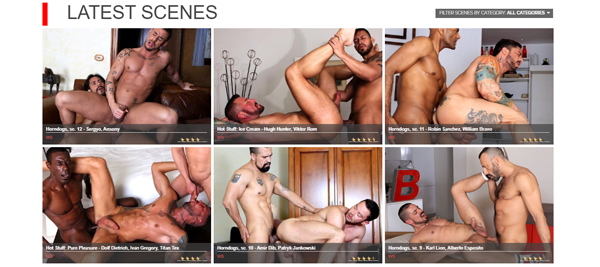 Conclusion
Sarava Productions features athletic guys in extra hot hardcore scenes. If you like guys with rock hard abs, you will surely enjoy the site's collection of videos. Aside from videos, you can also download high definition image galleries. The site has several sorting tools you can use to easily navigate through videos and photos.
Sarava Productions Discounts
If you like what Sarava Productions shares, you are most likely to be glad to unearth that we give away a token to use it, even though there are different other websites offering worthwhile deals like for instance on Paidpornsites.net you can benefit of an interesting Sarava Productions discount.