What Strap Attackers offers you
Overview
Have you ever wondered what it would feel or what it would look like if a lady would be the one who'll do the fucking, and pound a man? If only it was possible. Well, you might be saying already that it is possible with the shemale genre of porn. However, that is not the one that we are actually referring to. What we mean are real women, armed with nothing but their horny attitude and their pussies. "But that is impossible!" you might say. Let us tell you now though that we have found a popular pay porn site part of our big list that shows porn videos that are exactly like that. It is Strap Attackers, a porn site dedicated to female domination.
Strap Attackers is a site where you will be able to watch the hottest and toughest porn stars in the industry, wearing strap-ons and ass pounding men into submission. Strap Attackers is part of the prestigious Evil Angel porn network. Just the site Strap Attackers alone contain a massive collection of thousands of videos dedicated to showing, according to the site itself, "pornstars ass-fucking their bitch boys with strap-ons!" Aside from Strap Attackers, though, there are other notable porn sites within the network as well. These are Anal Acrobats (for those who enjoy watching anal action), Shemale Idol (perfect if you like watching shemale and tranny porn), and Big Natural Tits (for pure natural boobs galore), just to name a few. If you find these titles interesting then we totally suggest that you take a look at the other porn sites within the network as well. All of them, including Strap Attackers, feature unlimited streaming and downloading of exclusive 1080p full high definition videos, and high-resolution images and these are more than twenty sites in all.
If you are starting to have the dilemma of choosing which porn site to sign-up for, then you are in for a real treat, because you don't really have to choose among them. You only need to sign-up for Strap Attackers and you will already gain the full access to all of these porn sites! Yes, we will not keep you waiting any longer. Strap Attackers have three types of membership options: a one-month plan, a three-month plan, and of course, a one-year plan. Whichever option you may choose it will already give you full access to all the porn sites and perks mentioned above. After selecting the option of your choice, you may now fill up the sign-up form. Don't worry, it is just a short and simple form which will ask you of a valid email, the username that you would like, and the password in order to log into the site. It shouldn't take a couple of minutes. If you still want to take a closer look at the site, though, then don't worry because they offer a three-day trial membership option that you can opt for with a minimal fee.
Design & Features
We loved the soft purple color theme of the site. It looks feminine. Well, after all, it is a femdom site so we believe that it is just staying true to the theme. Upon landing on the homepage, a welcome banner with the picture of their best models will greet you along with the porn site's logo. Scrolling down, of course, there will be a navigation bar which will help you find your way across the site easily, but below that you will get to see their previews already. These previews are made up of different sized thumbnails, and there's actually a bigger one designed to show you the superb quality of their resolution. Aside from the thumbnails, you will also get to see the video's title, length, the actors in the scene, and finally, the categories that the video belongs to.
Girls & Videos
Strap Attackers is a premium porn site that features the works of the famous director, Joey Silvera. If you are already familiar with his works, and you like his style, then we are sure that you are going to like this porn site. Also, because it is by Joey Silvera, you can only expect the best porn stars who would love to work for him and his craft. With this in mind, there are definitely a lot of famous porn stars in the porn site, plus a lot of fresh faces as well, whom we think have been recently discovered by either the Evil Angel porn network or Joey Silvera himself.
In this light, the porn site did not focus on a specific type of girl or nationality. Hence, there is a varied mix of different types of beauties here. We have noticed a common thing with all the chicks in the site, though; all of them have this tough and confident vibe. They all look like they have the capacity to just freeze you up in their cold stare and compel you into submission.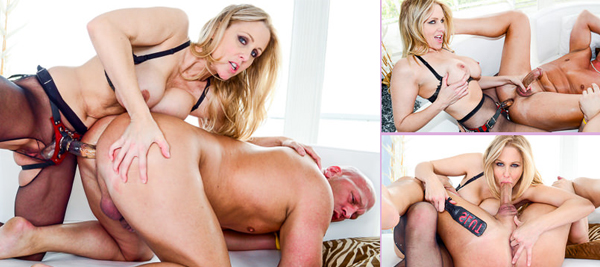 Conclusion
Overall, we really enjoyed our tour of this porn site. After all, how many porn sites are you going to see around featuring this type of niche and producing high-quality videos? A plus factor as well is that they also offer DVD copies of some of their movies. Their DVDs are truly in demand and it will surprise you in knowing how fast they can get sold out. If you are worried though that you might not get your hands on them, then we are pleased to share that one of their membership perks is giving the members full and exclusive access to these movies months before their DVD counterparts are even released. Hence, even while your friends are still waiting in line for one of their movies, you already have a high definition copy downloaded into your computer.
Finally, if you are going to have problems in the usage of this porn site in the future, the Evil Angel porn network also offers excellent customer service as well. They believe that quality videos are not enough if the needs of their members are not satisfied, so with that, they have site specialists waiting for your call through their 24/7 hotline if ever you need assistance for anything.
Get your discount!
$8.95
instead of
$29.95