What Thagson offers you
Overview
Thagson is the name of one of, if not, the best paid porn site in our list among those born in Europe. You heard me right. No more journeying through the inter webs just to find a hot European porn site that features erotic and steamy Spanish ladies, only to be disappointed by a video of low caliber. Well, worry no more because Thagson is a porn site that promises porn films of exquisite quality. So what makes it different than all those other sites that claim to have great quality content but in reality, is just not cut out to be great. Good question and I have the answer for you. Thagson produces excellent and top quality hardcore adult movies and it's not just an exaggeration considering most of their works are filmed by award winning directors and producers. They shoot high quality videos with only pleasure in their minds so it makes the sex look mind blowing as well! They have also been rated number one since the early 90's which is pretty much a big deal, taking into account how many other porn sites are present in today's generation. If that does not impress you, I'm sure their many awards will!
They have been awarded for best movie, best production, and best Spanish brand by the FICEB Internacional Porn Film Festival in Barcelona. They were also awarded for Best Feature Film by the Exposex Film Festival in Madrid, Best International Feature Film by Venus Berlin Porn Awards, Best Erotic Movie by the Feminist Porn Awards in Toronto, Best Movie of the Year by London Erotic, and many more! They have the hottest porn stars not only hailing from a Spanish origin but from other European countries, and unsurprisingly, from Latin and North America. Their collection is a fusion of hardcore sex and erotic storylines that would leave you wanting even more. They have a lot of hardcore niches including role play, fantasies, reality, and some very kinky stuff that you would be very interested in. They have over 80+ films with over 200+ scenes from each of these movies, separated and available for viewing.
Design & Features
Thagson does seem like a national treasure found in Europe as it is a precious source of fapping material. It is erotic, high in quality, and has the best hardcore cinematic pornography that anyone has ever laid eyes on, which is pretty much very hard to find these days. Thagson's best element is found in their video quality and their great storylines and they have proven that countless times with all the amazing work they have done. You will also love their mindset of wanting to produce the best Spanish porn in the entire world. If you like Spanish women getting fucked by Spanish men, then this should be your go-to site as well.
In my opinion, they are the only studio that focuses solely on high quality feature porn films. They have an extensive and broad selection of porn films and scenes which you can access once you become a member. You will be able to gain access to their adult network of websites too; steamy porn sites like Magma Film, Lust Cinema, Harmony Vision, WCP Club, Lucie Makes Porn, Joy Bear, and many others that you will find getting a membership.
Being a member also entitles you easy navigation to choose from categories like giant orgies, deep and passionate fucking, double penetration, remarkable and incredible looking blow jobs, mind blowing anal sex, astounding threesomes, vigorous fingering, a little BDSM here and there, and a personal favorite, lesbian sex.
They also have impressive spoofs of famous Hollywood movies and each of the scenes were done remarkably well. You will have the opportunity to choose from being able to watch it in high definition quality or not and you can choose from streaming or downloading a certain film or scene. If you choose to download, you will be able to do so in mp4 format, again with the choice of having it in HD or nah. Navigation in Thagson is undemanding, unlike most porn sites I've been to where the color scheme is just impossible to deal with. Thagson has a black and white themed website so it's very calm to look at. All the links can be found on top of the website, above the multitude of featured videos found in the home page. Clicking on the video's thumbnail will prompt it to play the entire thing.
Girls & Videos
The women of Thagson are not only sexy, absorbing, beguiling, and enthralling but they are also beautiful, striking, and pleasing. They are most especially, action-packed and horny. So what more can you ask for? You have Spanish women like Regina Moon, Rebeca Linares, Rio B, Priscila Prats, Lucky, Madelyn Marie, and many others that will not only make that cock twitch but will have you under their spell. These girls maybe different physical-wise but each and single one of these ladies will seduce and lure you into their sweet honey trap.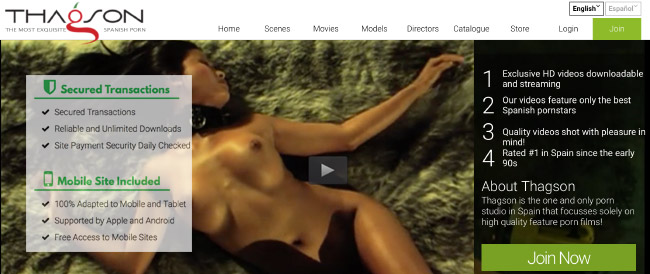 Conclusion
So what are you waiting for? I would tell you right here and right now that joining Thagson would do you all the good in the world. It is filled with sweet ladies from all across Europe mounting that cock and getting it on in front of the camera. If that does not excite you, then what does? There is a huge variety of porn stars that you can choose from and not one of them is any less than the other. The video quality is just as amazing as the storyline Thagson offers its members. Everything is perfect except for the absence of subtitles but all the moaning, the screaming, and the panting is all we need to understand that these ladies are enjoying that thick cock inside their pussies. Be a member and enjoy all the advantages and benefits of being a member!
This website does not exist anymore, we suggest you to visit Leche 69