What Bikini Dream offers you
Overview
I want to tell you about a new, top pay porn website part of our selection, that I came across the other day, a site that immediately just made my jaw drop to the ground like I was some sort of 1930s Tex Avery cartoon character. It's called Bikini Dream, and the slogan of the site really says it all: "…where the girls of your dreams get wet and wild". In my ears, those few words sounds just like some kind of paradise.
I have to admit, my attention was not the only part of me fully erect already from the first glance of the girl on the welcome screen, the girl with those dazzling white teeth showing a perfect summer smile, those beautiful, grey eyes, and those amazing, huge features framed by her dark hair hanging in front of her shoulder, her slim arm, and the sand (I'm pretty sure now that her name is Bianca). I was mesmerized, and I had no choice but to click on the button that allowed me to enter the site. I was then introduced to a place I had no desire to leave for a long while.
Design & Features
One word that comes to mind when attempting to describe what is so enticing about Bikini Dream, is "Tropical". I'm thinking of the bright colors, the stylish, classy and cool design, the letters and fonts used, which brings the mind to places like Hawaii, the Seychelles, the Maldives, Ko Lipe, Bali, Fiji and Tahiti. For all I know, many of the photos and movies offered to members of Bikini Dreams, may have been shot in some of these places. I can't find any info on locations. Then again, I don't really care much about that, as long as the girls are THIS hot!
There are quite a few categories to choose from on Bikini Dream. Obviously there is something called "topless beaches". You apparently also have the "glamour shoots" and the "swimsuit girls", and to top it off there is the "public flashing" category, for those who enjoy that type of behavior. My own personal favorite category, highly recommended especially on Bikini Dream, is without a doubt "spring break VIDS". There is nothing that can compare to the freedom feeling I get from watching girls letting something out that has been sealed up for a long, cold winter.
Girls & Videos
A smart and innovative choice Bikini Dream has made, is to separate the different photo and video sets, by a headline that not only tells you about the models name, but also reveals what she is wearing in the photo shoot, or, to be more precise, what she is wearing at the beginning of the photo shoot. There is a significant chance that parts of the bikini will drop at some point of the photo session. To explain in detail, this means that the headline Jessi "mango micro thong", refers to a set of pictures and a video featuring the beautiful blonde Jessi, wearing a mango-colored micro thong. Further, the headline Samone "black fishnet", refers to the model Samone in a black fishnet bikini.
This idea makes it easy to remember your favorite photo set or video, easy to find back to it later, and it makes the navigation really simple. Right now I just went to the site, and I used about two second to find my favorite set, in all sense, when it comes to the model, the esthetics of the photos, of the beach, the surroundings, and actually her beautiful bikini. Jessica "Rainbow mesh" is the headline of this amazing set. Check it out yourself, if you want to know what I mean! Ruby "black mesh sunset" is another one of my favorite sets. Ruby looks like she is out of this world, I love the spark in her eyes, and her body is just incredible. She's really, really got THAT sensational, stunning look!
A membership to Bikini Dream, also includes full access to lots of other sexy sites, like "Leg Seeker", "XXX Movie Files" and "2 Dicks 1 Chick". In fact, I find that Bikini Dream's own promotion is too modest when it comes to the additional sites members can access. Bikini Dream states on an information page, that members get access to 15 other sites, but as far as I can count, there are at least 20 other sites offered! So, when the site promises members full access to 1000s of XXX videos, lightning fast servers, unlimited downloads and bonus videos, of the hottest girls with the freshest faces, don't rule out that you might get even more than is promised!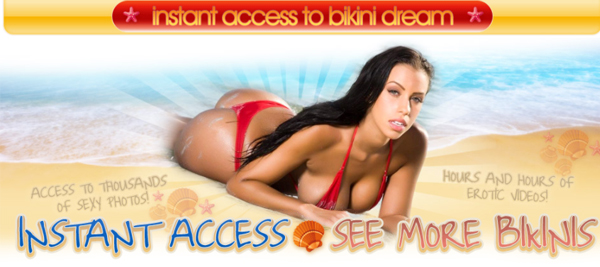 Conclusion
I have been browsing Bikini Dreams for hours every day for a while now. Still "new" bikini wearing girls making my jaw drop like the first time I discovered the site, keeps showing up. They keep showing up, and I keep getting knocked off my boots.
The models of Bikini Dreams are some of the most photogenic and beautiful girls I have ever seen in my life. After hours of browsing through pictures and videos of girls from all over the world on the site, I have yet to stumble upon one that I don't find attractive. To be perfectly honest, that is unique in any circumstance. Anywhere in real-life where more than three girls are gathered, and the situation warrants me to look at the girls and evaluate them, like for instance a disco, a night club, a lingerie catalog, or even a strip club, there are usually at least 40-60 % of girls that I really don't find attractive. For Bikini Dreams, the number is 0 %.
To summarize, the standards of Bikini Dreams is unsurpassed. The website consists of high quality, beautiful, elegant swimsuit models, for this occasion actually wearing less than a swimsuit. Signing up for a membership at a very low price, is highly recommended.
This site does not exist anymore, have a look at this best porn sites collection!