What Cherry Pimps offers you
Overview
When you have the time during the weekend, you will sometimes stop and think, "It's a great time to watch porn!" So you get ready and prop yourself over in a nice cozy corner in your room and start rummaging your massive collection of porn websites. Then you stop and realize that after seeing all of these, you're kind of getting bored with them and you need to find some new source material to wank yourself off to. Well, here's a site recommendation from me to you! Cherry Pimps is one of the best pay porn sites for live sex cams we have listed! They feature hundreds of fine looking ladies from the newest batch of porn star maidens to the hottest and best known sex kittens on the web. You will find them all here and more in Cherry Pimps.
Design & Features
At first glance, the website looks like any other with its silver and red theme and stunning photos of the models as the primary focus for every girl mentioned. These photos showcase the best of the girl. They're not just some run of the mill photograph. It's most professional shots of the girls while getting bonked or having fine time with her me-time. For every girl listed on the site, they have corresponding photo galleries for the live shows they have done. These videos range from the usual self touching, use of sex toys or to the more all the way approach where they do the deed with a dude or even a sweet threesome with some other lovely girls on the set. I say set, because these shows aren't your typical cam shows. These are movies in themselves and are filled with so much content that highlights the girl's best assets.
The site features their best scenes of every live show ever seen on the site. It's a collection of pictures from the time of the show and it showcases the best photos during that time. The stunning display from the scenes here are enough to make you want to watch an actual live show so you better prepare yourself to see one! The Porn star tab lists all of the porn stars affiliated with Cherry Pimps. This is a range of girls from the amateur or the not so known but equally as striking as the others porn chicks and of course the veteran porn star models who have a name for themselves and still continue to shine as bright as the star in their titles.
The highlight of Cherry Pimps is in their live shows and they make sure to remind you everywhere that they have upcoming shows of their best and most talented models. A countdown timer is placed at the top of the next show that will be showing the closest and it's the best thing about the site because you will know when exactly to be prepared to watch the girls do their thing. It is this live show experience that makes Cherry Pimps better than the rest.
Girls & Videos
The girls in Cherry Pimps come in all shapes and sizes, may their tits be on the flatter side or on the fuller bust size, may they be short or taller than the men, and even girls that are on the heavier side or the lighter side of the scale. They're all gathered here on the site and at the ready to give you the entertainment you need to watch.
Morgan Lee is one of my favorite Asian porn star models to date! Her Asian booty, her captivating smile! Man, she's a sight to behold! She's the type that knows how to get down and dirty, and her slender physique means she's almost like a pocket porn star, you can take her anywhere! She is also known to give the best blowjobs in the planet and you can clearly see why, as she can take a monster cock all the way in that mouth of hers. You will need to watch this girl's live shows as seeing her in action is the only way to actually believe. Veruca James is next on the list and is at that prime age of ripeness like a fruit that is at its sweetest. Her gorgeous porcelain skin accentuates her jet black hair all too well, leaving her looking as exquisite in her photos as she does in her live shows. She looks elegant and that tight pussy can take quite a beating!
Make sure to put her in your to watch list as she can surely make you feel aroused in her shows. And lastly, we need to mention this lovely vixen, Jessica Ryan. Oh, Jessica! If you're into cartoons then you know Jessica Rabbit, and this Jessica looks so much like her it's almost like she stepped out of the television! Her bust, her butt, her everything! She is one gorgeous bombshell that's ready to take on her favorite sex toys or a dick or even that juicy pussy. This lovely lady has a killer seductive look that's meant to reel you in like a hunter that has caught its prey. A redhead beyond compare, she is worth watching live! Go and check her gallery to see what I mean.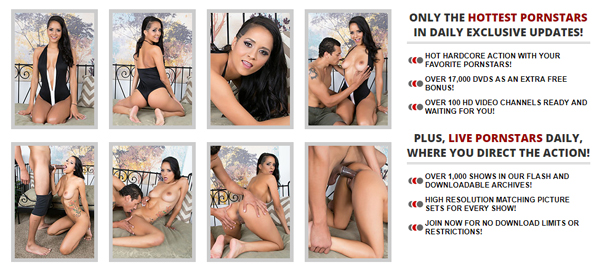 Conclusion
When it all comes down to it, porn is porn and this site delivers it in the most efficient way possible. It is as much as an advantage to you as it is to them that you become a part of Cherry Pimps. You get the perks with the girls all lined up real nice for you to watch. These girls are the cream of the crop and you get to see them in all their glory. Join Cherry Pimps now and never miss these shows as they come on live. These are all worth your time and you deserve such high-quality videos with the most sensational experience to date. Become a member and bask in the great feeling of seeing all of this and more. You do not want to miss this chance!
Cherry Pimps Discounts
If you cherish the material Cherry Pimps has to offer, you are going to be delighted to discover that we provide you with a discount to enter it, but, there are different other pornsites providing you with excellent deals like for instance on Bestpayadultsites.com you could have an advantageous Cherry Pimps discount and Paidpornsites.net similarly delivers appealing and updated Cherry Pimps discount.
Get your discount!
$8.33
instead of
$29.95