What Czech Harem Offers
Overview
There isn't anything quite as decadent and delicious as a bunch of hot, delicious Czechoslovakian women making a beeline for your throbbing cock. And we aren't just talking about six or seven or even ten luscious ladies at a time – we're talking hoards of them. Ever thought of the phrase – knee-deep in pussy? Well, here at Czech Harem, it's literally a reality. Buxom blonde, milky maidens that look like they were the battle spoils of a victorious Viking, lustful raven heads with bewitching curves, naughty brunettes begging to be ridden all the way – Czech Harem has them all.
The site is filled with videos you can relive that one fantasy you've always had – of riding scores and scores of gorgeous, sexed up whores willing and potentially bursting with lust for your cock inside their tight slippery pussies. It's always one ludicrously lucky man alone in a room filled with these rare, lust-driven creatures. And he doesn't always get to take one pussy at a time – he'll be taking one hot blonde in the ass whilst pleasuring another smoldering brunette with his mouth. Besides, all of the videos on this website are a hundred per cent authentic – real, naturally beautiful women willingly serving one man in this pussy haven. Apart from all the horny pussy taking cock, there is plenty of sexy girl-on-girl action too while these women wait in line. Just thinking about it could get you hot and heavy.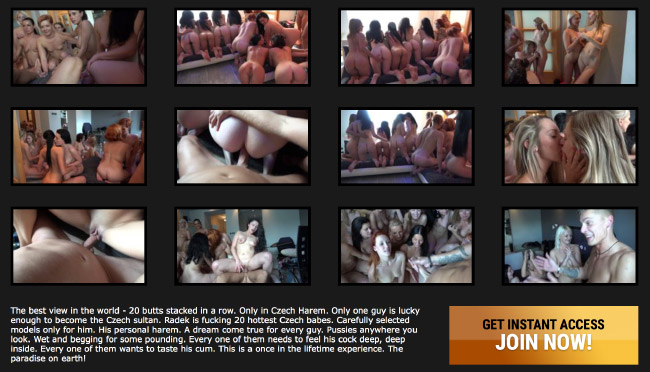 Designs and Features
As soon as you hit the site, Czech Harem lets you glimpse through what's in store for you – the reverse gang bang fantasy – one man and an army of hot women begging to be satisfied. The preview videos on the home page itself will get you nice and hard for the tour ahead. The layout of the website is clean, uncluttered – NO annoying, off-putting pop-ups, NO randomly activated GIFs, NO fraudulent advertisements. And for a very minimal membership fee, you can get access to thousands of videos from the 31 Czech AV sites where you can view similar content – in a more pleasurable, satisfying format. Plus, the website is discreet and doesn't solicit any unnecessary details from you. You pretty much get instant access as soon as you sign up.
The videos are in lucid, crystal clear HD and stream really quickly, without any delay in buffering – for your uninterrupted viewing pleasure. The length of time for each of the videos is listed right on top along with a thumbnail that shows you exactly what you're here for. Also, the sound quality is pitch perfect so you can hear these women moan and breathe heavily as they slave to their master, so you can cum as hard as you can. It's almost magical.
If you need more time to decide whether you should sign up, try going through the 'Free Tour' offered on the page. The videos and thumbnails listed are only just the tip of the iceberg – but enough to whet your appetite and make you crave for more.
Girls and Videos
The one promise that Czech Harem definitely delivers on is the 'real' aspect of the videos. All of the women in the videos are authentic and natural. Czechoslovakian women are known to be adventurous and extremely passionate. Each video has these startlingly gorgeous, milk- women in all their naked glory, dying to throw themselves at the one lucky dude – all he has to do his bring his hard, succulent cock to the pussy parade.
There are witchy-looking dark-haired, curvy women who look like they're about to hold a sexy, naked séance with one man as their lord, overseeing the ceremonies. There are luscious big tittied maidens with long golden locks waiting to take that cock in their mouths. For those of you who enjoy seasoned, mature ladies who know a thing or two about pleasuring you right, there are harems of these hungry, horny women who need to need to fucked right this instant.
The reigning theme of all these videos is that these women are literally begging to serve the one man – it's all real and consensual. And there is nothing hotter than a room full of women willing to be pounded and pleasured with your cock. Whether you like big busty women or you like lithe, naughty pixies – Czech Harem has you covered.
Even more unique is the fact that not only can you see the hunger and lust in their eyes, you can even hear them moan as they vie for the prized cock. All of this builds up to a satisfying climax where they watch their master come – either on their asses or their big milky tits. In the mean time, while they wait for his attention, they even get busy among themselves – squeezing their tits or fingering each other's pussies. It's all very wild and naughty. Most of all, they're all having fun while they're at it.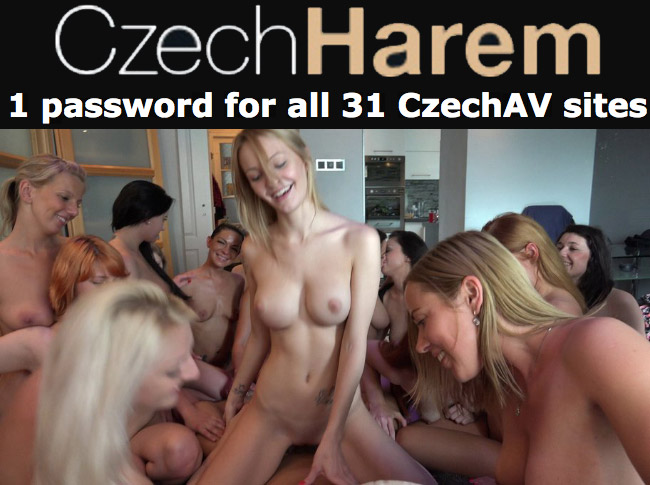 Conclusion
Rather than randomly googling and searching through truckloads of poorly done porn, it's much better to sign up for a website that specifically tailors its videos and content to your special needs. This is precisely the idea behind Czech Harem but this site is giving you the viewing pleasure without you having to search for it. Superior video and sound quality, great video buffering speed and a layout that's easy to navigate through – Czech Harem has enough going on to make it your one favorite stop for well-crafted porn. But perhaps the biggest draw of this site is the content – the website has easily homed in on the ultimate male fantasy – to be attended upon by several beautiful, dripping wet women all at once. And Czech Harem very satisfactorily delivers on it. What's even more satisfying is the range of appetites the site caters to – big busty lasses to tight well-rounded asses, shaved puffy pussies to magnificent, hairy delights. There is so much to recommend this site for the distinguished, tasteful gentlemen. The reasonable membership and easy access are just the icing on top of the big, milky white decadence of a cake! If you're not sure take a look at our pay porn sites list!