What Helix Studios offers you
Overview
Helix Studios is one of the largest and best-known gay porn site, strictly focused on hot looking twinks. If you are a gay porn lover and enjoy watching fresh, gorgeous looking young males in action, then you will love this site. Most of the guys featured on this site are porn stars or models, they all have slender bodies, nice cocks, and they all are extremely attractive.
The website includes a massive collection of videos, movies and pictures. They also have a live show area where you can chat but also watch instant or past shows. The show is hosted by one of the models, I believe every 2-3 weeks, you will be able to ask him any questions and watch him undress just for you. As you can see they have a little bit of everything for every taste such as hot masturbation scenes, 1 on 1 sessions, bareback action, blowjobs and facials. They have a section dedicated to their models, and you will be amazed at how yummy looking they are. I went through the collection myself, all you have to do is click on the model tab, then the model of your choice and it will give you all the information about the model (age, orientation, role..), their latest tweets and videos.
Design & Features
Being a member of Helix Studios gives you cool benefits as well. You will have endless possibility of streaming and downloading (depending on your membership package explained below). You can even sign-up you to receive an email when new movies and scenes are added on the website, plus you will get a discount on all your movie purchases. Also, if you have a Roku player you can access Helix Studio for free with your membership, for a big screen experience. Not only can you access the site on your laptop or Roku player, but also on your tablet, MAC and your cell phone, meaning you will be able to check out these hot twinks whenever and wherever you want. They are updating their site weekly, so you won't have time to be bored here.
Boys & Videos
All videos and movies uploaded after 2008 are in pristine HD quality and the pictures are in high resolution. As of today they have 3395+ videos and 450+ movies. Luckily, they have trailers and previews so you can watch them and make your own opinion about this site. Another cool thing about Helix Studios is that they have their own store where you can purchase a mix of things like Dvd's, sex toys, apparel, and so on. But wait there is more, they also have a Blog where they are sharing information on the latest scenes, previews, and stories, you don't have to be a member to consult the blog, it is accessible to everyone.
And last but no least, you can also make extra money and become a model for Helix Studios, you can apply directly to the site, now how cool is that? So, with all that being said you have no reason not to sign up for this site. You won't find this much content anywhere else. When you sign up for Helix Studios you will have the choice between different packages. There are two methods of payment, either by credit card of US check. Here is a list of the fees found on the HelixStudios.com website:
$2.95 – 3 days Trial
$19.95 – 1 Month Membership Save 43% on your first 30 days
$65.95 – 3 Months Membership
$16.43/month – 1 Year Membership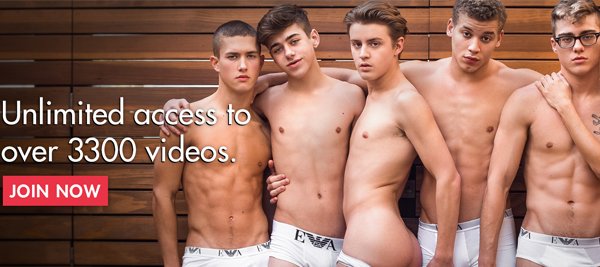 Conclusion
Helix Studios is worth every penny. There is not one thing to dislike about this site, they have everything for all the gay porn lovers out there. They have a massive collections of homosexual sex videos, movies and pictures, that you are able to download and stream without any limitations (if you purchase the full membership). And don't forget about the live shows. The video quality is as amazing as the young boys featured on this site. Honestly, Helix Studios really excels at what they do and it shows. So fellas, it's time to give this site a try, you won't regret it, tons of masturbation material here!
Get your discount!
$19.95
instead of
$34.95