What Jav HD offers you
Overview
Jav HD is one of the best pay porn networks and contains only Japanese Adult Videos, most of them uncensored and in 1080p HD. We all know that Asian girls in general are considered to be one of the hottest in the world, so we have the right to have highest expectation of this network. The website looks really nice, everything is so well separated by sections so it is very easy to navigate through it. Just by entering, on the left side of the page you will have the chance to see what does this network contain. Everything is so well designed that entire content is just one click away from you. It is one of the largest networks in the porn industry we have today. Over 15700 scenes, 56000 pictures, more than 460 models.
Total size is approximately 6.5Tb, and most of us have computers with 1 to 2 Tb of memory available, so it just shows you how large it is. Content is getting larger every day because several new uploads are being uploaded daily. Network has 14 different XXX sites, and some of the largest one are Lingerie AV, Hey Milf, AV 69 and Ferame. Eight of those 13 sites have more than 1000 adult scenes each, and it is more way for them to show you that they pay attention to each site. What also needs to be said is that Japanese girls are using toys more than any other in their scenes. What I personally like the most here is category section, with 38 different categories, that makes your search much easier. Website can be viewed in English and Japanese version, and you can also follow Jav HD on Facebook and on Twitter. For any possible question or problem you might have, their 24/7 customer support is there for you.
Don't forget to also check out 
Idols69
Design & Features
Membership options here are not different from other networks, you can choose between unlimited and limited membership plan, and also you have different types of unlimited membership, depending on duration.
3 day trial for $1.00 which gives you access to entire network but you can not download any videos and picture galleries
1 month membership for $19.99 gives you full access to entire network with an option for unlimited downloads. So far, this has been most popular membership on the network
3 month membership for $14.99 per month (or $44.99 billed at once)
1 year membership for $9.99 per month (or $119.88 that's billed at once). If you choose this membership it can save you up to $240 (more than 60%) of regular price.
Newest members should start with monthly membership, and after they make sure this is the right place for them, my advice is to upgrade it to a yearly membership.
Girls & Videos
Most of videos are in 1080p HD. I have already mentioned extremely large content this network has. When talking about models, I usually like to check which one is most viewed, and by that criteria I need to mention Ria Sakurai, Yui Hatano, Maria Ozawa and Mei Heruka. All JavHd videos are 100% uncensored, and it's something you will really enjoy. Videos can be viewed online using Flash, or downloaded in different sizes of MP4 format. Pictures are in high resolution, and each gallery contains around 60 pictures that can be downloaded in zip pack. When we talk about popularity of categories, we can see that most popular categories are Blowjob and Hardcore.
Only two of the 14 sites have less than 500 scenes, which is quite impressing because we used to see that some large networks forgot to update half of their content. They even have basic information about newest girls. Scenes are daily uploaded (sometimes you can expect up to 7 updates per day, but never less than two). Jav HD network is also optimized for all mobile devices. There is also an adult newsletter option available, you just need to enter your email address and you will get notified about every update. Jav Hd offers of the best designs we have today: scenes, categories, models are all to be found on the homepage in the order you most prefer.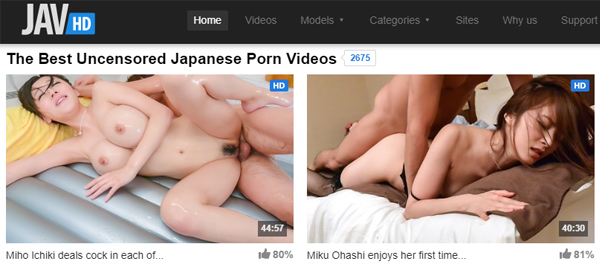 Conclusion
Basing on all Asian porn networks i have seen so far, i'm free to tell that this is the best Asian porn network we have today. HD videos, 38 different categories and daily uploads are just some of the things why you should join this network. It's a great investment if you are a Japanese porn fan and every dollar you spend here will be worth of it. Basing on number of daily uploads, quality and quantity of the scenes, web design and navigation, exclusivity of the content and the price for all of that, overall score is 9.8/10, one of the highest score among porn networks. I hope you will enjoy it as much as I did.
Jav HD Discounts
If you cherish the things Jav HD provides you with, you are most likely to be happy to find out that we offer a deal to use it, although there are heaps of other sites giving away excellent deals like for instance on Bestpornpay.com you can avail of a huge Jav HD discount and Paidpornsites.net likewise gives away great and up to date Jav HD discount.
Get your discount!
$9.99
instead of
$19.99