What Bang! offers you
Overview
Premium porn sites feature niches and arrange the concept and video uploads depending on what market they are aiming for, it also depends on the fetishes and the fantasies of their viewers. However, there are instances wherein you would just like to have a variety of categories that you can choose from and just have one site to cater all of the things that you are looking for and all of the categories that you want to watch. Bang is the adult entertainment site that gives its members a variety of categories that they can watch and choose from, they have thousands of high definition videos and thousands of high resolution pictures from all the categories and niches that they have.
Design & Features
Bang works as a portal for all of your sexual desires and all the types of videos that you want to watch, they have about 108,712 high definition videos that are all convertible into different formats such as WMV, AVI, MPEG and more, they can also be downloaded and transferred into different devices like Android phones, Iphones, Ipads, Ipods, laptops and more. The site is easy to navigate as well as its mobile version, everything is laid out in the homepage to make it easier to go through everything, and you can check their new videos, best videos, all of their categories, the profiles of their models, their movies and more.
All of their contents are updated regularly and they have about 14,903 models that you can choose from, they have a very diverse group of adult entertainment models, there are Asians, Latinas, Caucasians, African Americans, Europeans and more. Aside from having access to all other their contents once you become a member, you will also have access to their other sites in the network such as BoobiesZ, MomandAbused, 18InHD, GangBangZ and many more. At the bottom most part of the page you will be able to see the link for their customer support hotline and email and they are available 24/7 to help you, they also have a frequently asked questions page and they also have a link for those who wants to join their team and submit their resume to become a model.
Girls & Videos
Bang is a pay porn site that has a lot of genres and categories that you can watch and they have thousands of models that you can choose from, they even put all types of models together. They have models like Brittany White, an African American beauty who is a self-declared lesbians however in one of her scenes she was able to taste a dick for the first time, and she indeed liked it for after a few minutes of blowjobs and handjobs, she rode the dick like a bull and she certainly would love to try more cocks. They also have scenes wherein their models end up having sex outdoors, like the one where Carmen Luvana is in, she was able to turn a simple picnic into a full blown sex session.
Another model that they have is the gorgeous Asian named Mia who was fucked in the garden by a total stranger, in her scene she excitedly took her clothes off as well as that of the stranger before laying on the ground and spreading her legs for his massive cock. Their girls also loves to party and you can watch them as they flash their tits during the Mardi Gras just for a couple of beads, models like Stella, Charlotte, Mary Anne, Sarah and Sharon took photos and videos and they even let the people around them touch and squeeze their bare breasts. The site also has a section wherein they place their top picked videos on the page so you will know which of them were highly rated by the other members of the site. One top rated video is that of Trinity Post who got her pussy stretched by getting pounded by a massive black cock, in her video you can clearly see her mouth getting stretched by the massive cock, and her fun didn't stop with the blowjob as her partner inserted his massive cock into her pussy, and after a few minutes he came inside her.
Another top rated video on the site is that of Nikki Nieves who was in the scene with another Bang model, Tabitha James. Their threesome received a remarkably 100% rating as their hot scenes involved sharing the massive cock of the only man in the room, they also rode him alternately and they even ate each other's pussies as the man watched them. Their scene had all the action that the viewers love, making it the most watched threesome on the site. As for their videos, the site allows their members to rate them and give the performances of their models reviews, you can give a thumbs up to your favourite videos and you can rate your favourite models. You can even download the videos so you can watch them anytime that you want to.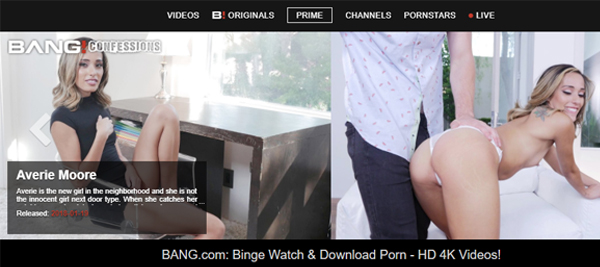 Conclusion
If you are looking for a top paid porn site that has loads of categories and videos then this site is for you, Bang has thousands of scenes and hundreds of categories that you will surely have fun watching and downloading. This site works exactly like the social media site Youtube wherein you can search for the kind of adult entertainment video that you want and you can even go through the categories available so that you can search for the perfect scene. Most of the sites have one to two niches and categories but Bang has multiple ones so once you subscribe, rest assured you won't need to go anywhere else as everything that you want and need is already included with your subscription to the site. Bang proves time and time again just how satisfied their members are as their videos receive positive reviews and 100% ratings, they also get new subscribers everyday and sure enough they enjoy every bit of the site's contents.