What Girls In Love offers you
Overview
Girls In Love bring that one missing part that lacks in lots of porn video – chemistry. In most cases, girls and guys just get naked and fuck, suck dick, smile and fake moans and groans. But in here, the girls truly have got some emotion in play and will make the already sexy and hot sex scenes be more sensual.
There is a wide variety of hot girls including a mixture of both amateurs and pro lesbian pornstars, which makes the site even more interesting. Whether it's a slumber party or a horny masseuse, you will still get that arousing element that these girls who are eating each other's pussies are surely into each other and there is no deny it.
There is also some solo masturbation where the girl in the scene gets to use some dildos or even better, her fingers to get that arousing feeling.
It is also amazing how simple and convenient the design of Girls In Love is. And as such, it would definitely take you the minimum number of minutes to get exactly what you want, meaning that you will spend even more time masturbating to the good quality videos and photos that they offer.
Design & Features
Girls In Love can either be joined for free or at a fee, depending on what your situation is. You will get to watch videos of 360p quality for free but as a fully-fledged member, you will get the chance to enjoy full HD movies all the time.
There are also bonus sites that will always add to the erotic fun that you are about to experience. Some of these bonus sites include DDF Cams, DDF Vod, DDF Adventures and Fuck In HD.
In Girls In Love you can search for your popular videos or pornstar using the keyword sensitive searching tool. There is also an area on the website that is all about the pornstars, bonus sites, updates and the home. For the updates area, all you need to do is click on it and get filled in on all of the new updates including the "coming soon" movies.
The background of the site is white. And the latter means that you will always have a chance to get to enjoy the clean, well-organized appearance of the site which will speed up your navigation for sure.
Girls & Videos
Apart from the wide variety of toys that are being used in here, Girls In Love also makes sure that you get the chance to have a wide variety of lesbian girls to choose from.
The majority of these racy girls is white and has got cute faces, tight and slender bodies with obviously tight, beautiful skin. It is also plausible that these girls cast in here are some of the most beautiful faces that you will ever get to see.
And then there is the sex. Since there is a mixture of both amateur girls and pornstars, you will have that upper hand advantage that will most certainly blow your mind away. From solo acts all the way to the group sex, everything is sensual, steamy and filled with genuine moans and lots of flowing, well-shaven pussies.
These girls have a wide variety of hair colors including blonde, brunets, redheads and white hair. And these are just examples of the many features that these girls have in store for you.
You will also love the power play where some girls issue commands about how they want to be fucked or their tits be massaged or touched and the rest just get to follow the orders. In the end, you will most certainly be in aroused and it would be a good idea for you to have some lotion and towels to wipe yourself.
Girls In Love has girls such as Janet and Sharon Pink who are all blondes, have big and juicy tits and love each other for real. They love using both their fingers as well as lubricated fingers to give pleasure to each other. If you have a thing for the naughty, slender brunets with blue, intense eyes, then Chloe Lacourt is the girl for you.
Even though the majority of the girls in here is white, there are some who are of other ethnicities. For instance, if you want that cute, BBW with big, juicy boobs, then I would recommend that you check out Maserati. Other girls include Alaska Diamond, Ashley Bulgari, and Honey Demon.
The videos available in here are also very interesting. They are all very easy to check out since they are in high definition and have some tell-tale snippets. For instance, you will always see two pretty girls kissing, groping or fingering each other. And that said, you could use the snippets to tell what videos will keep you entertained since they cover your fetishes.
There are two kinds of videos offered in here. For those who join the site for free, there are the 360p videos that they can watch. For those who join and pay for membership get full HD movies with no limitations on the quality.
Below the video is the title, which is very short and very, very revealing. An example of the titles includes: "Sapphire Pleasures" and "Monster Jigging Leads to Vibrating!"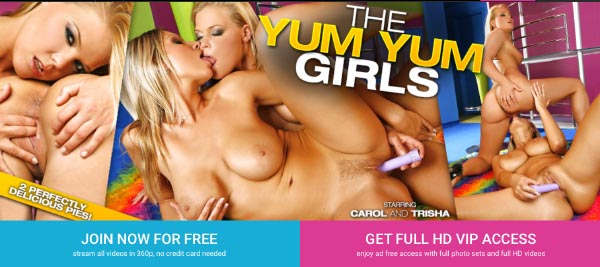 Conclusion
Girls In Love has some very gorgeous girls, both amateurs as well as popular pornstars including Ashley Bulgari and Chloe Lacourt. There is also a good variety of sex in here, which is always going to appeal to lots of different people.
Also as I had mentioned earlier, there are plenty of good features like the searching tool that you can use. If you want two girls using a dildo to fuck, or their fingers, you just type in the keywords and press send to get the results.
I loved the simplicity of the site, which makes it easy for you to navigate.
You can also join the site either for free or for a fee, all depending on whatever it is that you feel like having when you join Girls In Love. Also, get to pick out a category that will turn you on. If you love slow and sensual fingering, dildo fucking or even better, lesbian orgies, then, by all means, go for exactly that!
Girls In Love Discounts
If you cherish the material Girls In Love brings you, you may be excited to find out that we give away a coupon to visit it, even though there are heaps of other pornsites having worthwhile deals like for instance on Xpaysites.com you could have a great Girls In Love Discount and BestPayAdultSites.com too gives away appealing and big Girls In Love Discount.
This site has been closed, we suggest you try this best lesbian porn sites selection!