What Horny Hairy Girls offers you
Overview
What has happened to the good old days when centerfold featured a full bush? Nowadays, finding a hairy pussy is like finding a needle in a haystack. Oh, but when you do pull down a pair of underwear and reveal a hairy vagina, it's a gift you can bury your face in. Natural girls who keep their pussies unshaven smell like sex all the time and have the kind of soft, hairy twats that grip your cock on every stroke.
I believe many of us have this fetish, and sometimes we get to fulfill them and sometimes we don't. Let's be practical, because sometimes porn can get really boring and fake. It has the tendency to excite you, but at the back of your head you know it does not feel real. So, what if there is something out there that is all natural? What if you have a fetish for women who like to keep it all natural? Keep the fuzz growing and beautiful: leg hair, armpit hair and, of course, even the crotch hair. Do you find that turning on and intriguing? Would you like to feel the warm moist fuzz and sniff it? You know what it reminds you of? Sex, of course! And where do you find such porn? Horny Hairy Girls is the website for you to subscribe to! This website was created specifically with this fetish of yours in mind. And it has been around since 2004. So, you can imagine the amount of content that this website has to offer you.
A guy who loved hot women created the website. His name is Rodney Moore. This is just one of the website that he owns. But this one especially is something else in terms of content and variety. Uploads are done weekly, at least 5 times a week. So, go ahead and enjoy the show, knowing that it's a joyride that is never going to end. A quick low-down about Rodney Moore. Rodney Moore is a happy-go-lucky type of porn lord that seems to be one of the last remaining producers of non-corporate adult entertainment. At has a raw appeal to it that I think a lot of people will find enjoyable.
Design & Features
The site is managed by Rodney, and not owned by some by some corporate company who is out to just make money. Hence it is better managed and really taken care of, personally. Horny Hairy Girls has a very simple design and a totally uncomplicated layout. It may look like an old porn site, but the fact that it is so understated makes the site really good. The colors used are also very subtle. There is the white background with bits of light blue here and there. It is highly unusual for a porn site to use such colors, but somehow it totally works. The first sight of the website gives you a tour of the entire website through the slideshow of pictures. There are also thumbnails provided of videos with captions at the bottom.
Girls & Videos
All of us love to indulge in our fetishes. And this website can really help you with that one particular fetish. Horny Hairy Girls exclusively show cases porn with women who are hairy. And when we say hairy, we mean really hairy. Hair everywhere. This is a dream come true for guys with a hairy woman fetish. What also makes this website more interesting to take a look at is the fact that many of the women that feature in on horny hairy girls are not just hairy, but also very real. Real in the sense that they look like your everyday woman. Not everyone can watch porn stars and be turned on by them knowing that very few women out there look like that. There is a niche if guys who like women in all their form and glory, and horny hairy girls is specially for them.
These women have hair everywhere. And they are unapologetic about it and get even dirtier, nastier and sexier on cam. Girl on girl action is your thing? Then guess what, some of the videos not only feature two, but even three women who are going at it! You can watch them go down on each other simultaneously and lick that lovely pussy hair, take a nice sniff, and then shove their tongues straight into each other's pussies. All this while squeezing those tits real hard. They suck those tits like there is no tomorrow. It is a beautiful sight to watch. There are also solo acts. Watch solo women pleasure themselves with dildos, while they rub their hairy pussies. Finger themselves to cum, and then shove that dildo right it there.
But all that does not end there watch them as they suck a cock, and take it deep in their throats. And let the guys rub their cocks against their hairy pussy while making it wet with the pre-cum and then shoving it in right inside their tight pussies. How about some nice facial with some cum? Watch these women let their men jerk off all of their cum on to their faces. And some even swallowing that thick juicy cum, while some swapping it. Horny Hairy Girls can get down and dirty just for you. We definitely suggest you that you should sign up right away.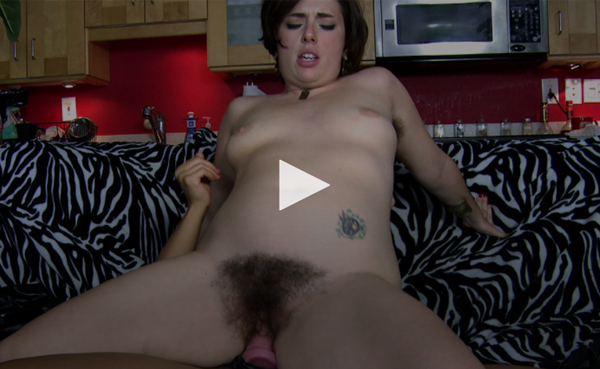 Conclusion
By now we are certain you have a fair idea of what is in store for you. It cannot get kinkier than this. And since this website has been around for over a decade, Horny Hairy Girls offers you the best in this genre. If you do not want to miss anything that is hot and happening on this website, you must head to their extensive updates section to look out for what is new. Irrespective of the kinds of porn videos, this section will show you what has been updated on the website lately. The benefits do not end there. There are almost 12 bonus websites that are featured on horny hairy girls. And they are all different from each other to satisfy all of your fetishes. Amongst the few there are MILF and honey, Scale Bustin' Sirens, Top Heavy Tarts and several more! So now every fetish will be satisfied at just one site. I think enough has been said. Go on to horny hairy women are have a happy jerking off session!
Horny Hairy Girls Discounts
If you cherish the videos Horny Hairy Girls proposes, you may be turned on to realize that we make available a coupon to visit it, but, there are different other sites providing you with worthy deals such as on Bestpaidpornsites.com you can take advantage of a major Horny Hairy Girls discount and Bestpornsitespay.com too provides appealing and brand new Horny Hairy Girls discount.