What Kinky Pony Girl offers you
Overview
Great HD fetish porn site, Kinky Pony Girl brings you daring sweethearts who can pleasure you like no other without getting naked. Well, their kind of fetish will surely blow your mind as they wear costumes and transform into sex slaves ponies. The latex, leather, and instruments that can deliver bittersweet pleasure can be seen all over the collection and you'll definitely enjoy their willingness to be dominated.
Design & Features
Presented in a dark-themed website with sleek design, the tempting looks of the models and the sexual situations can surely make you feel more aroused than ever. The welcome photos depict the darker side of porn and it's easy to see that the collection is not just your usual softcore or hardcore scenes. The other photos of the models support the claim of this site that this is the best destination for everyone out there, who has a unique kind of fetish.
From the name of the site, you can easily have an idea of what to expect. Ponies, real sweethearts who are gorgeous and sexy are more than willing to be dominated and played upon by their mistresses. Among the pioneer models here is Anna Rose, an entertainer that is already famous in the BDSM industry. Together with her equally hot friends, they are here to enjoy playing and dressing up as ponies while their mistresses make fun of them. Even if you're not a fan, you would definitely love the thrill and excitement that the exclusive collection brings.
As a member, I have to admit that I really enjoyed the way the contents are arranged under their respective categories, as well as the few but really functional menus. Wherever you are, you can easily access the video, photo and member's area page. You also have a way to filter the contents that you are going to watch by using the sorting tool. If equestrian fetish is the type of porn that turns you on, then I am telling you, you'll never find a better porn site than this one!
Girls & Videos
Kinky Pony Girl is an exclusive and high-quality porn site that will take you all the way to Holland where Anna Rose and her friends pretend to be pony darlings. They look so good and so damn hot in their tight-fitting latex and leather costumes. You would see that they have the perfect curves. With their willingness to please, you would soon forget that these models are just pretending. They seem to be born only for these roles! There are traitors and mistresses here that teach the new models and you would love how they give their lessons. The contents are available for streaming and downloading but only for members!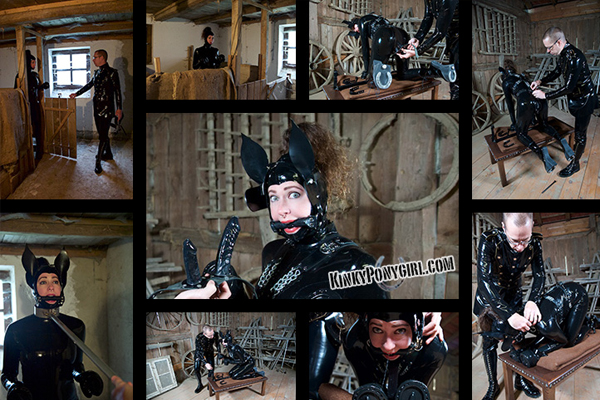 Conclusion
Kinky Pony Girl is dedicated to all the horny fans out there, who have a weird and yet highly satisfying kind of fetish. Playing like real ponies, you would surely love the original BDSM scenes along with the cosplay performances. The models here are all beautiful and sexy and they are more than willing to be sex slaves if only for your satisfaction!
Kinky Pony Girl Discounts
If you fancy what Kinky Pony Girl gives you, you'll definitely be happy to realize that we offer a token to get access to it, even though there are various other websites having great deals like for instance on Paidpornsites.net you can avail of a big Kinky Pony Girl discount and Bestporn.net similarly gives away great and fresh Kinky Pony Girl discount.