What Sexy Settings offers you
Overview
When you love porn, you get the opportunity to come across all types of site and see all types of videos that turn you on to new heights. One such site that any porn lover who loves seeing women in constraints will be happy to join is Sexy Settings. Sexy Settings is a very fun site that has some amazing videos that will definitely leave no one indifferent. On this site you will find women being cuffed, played with, and licked until they come. Sometimes they are only touched in the right places and their juices will be flowing like a tap was turned on.
Some women love it when the man is in controll. These are the women at Sexy Settings. They are filmed in different settings all of which are sexy. The site owner Claude, manages to convince women to come over to his place or sometimes he goes to their place and gets them tied and beaten in sexy way. The women are all too willing to be tied up and teased until they come. For most of these women, it is a fantasy that they had always had and Claude is just giving them a chance to live it.
In the videos, the women are tied to the bed or other surface, their legs are spread wide; sometimes their mouths are gagged. Then they are undressed slowly and in no time various parts of their body are released and before long they are stark naked or semi naked. Then they are touched in their pussy using fingers and other objects. Their pussies are licked until they beg to be fucked. As a member of this site this is what you will be spending time watching. If you love to see women in constraints and begging for release as they are teased to orgasm, then this is the site for you. Note that it is not only about constraints. It is also about helping these women fulfill some of their sexual fantasies.
Design & Features
The website has a black background with pictures superimposed on it. Most of these pictures are picture links which when clicked on will take you to other pages where you can find more content on the site. The landing page of the site has three main menus in the form of picture links. These are; all private, all personal and horny girls tied. On the landing page, you will also find a number of links to other hot porn sites. However, to get to the main homepage, you will have to click on the "let me in". Note that the let me in is not a tab per say but it is a highlighted text that is a link to the home page. This can be found at the top of the page just before you meet the picture links for private, all personal and horny girls.
On the home page, you will find the website arranged in three columns; two columns on the left and right and one larger column in the middle. The two columns carry sample pictures from some of the models on the site. Clicking on these pictures takes you to an enlargement of the picture. In the middle column, that is where you will find some of the content that you can expect to see on the site. It carries a teaser and other latest updates that have been added to the site. On this site, links are denoted by yellow highlighted text.
As you scroll down the home page, you will get a lot of content about the site and some of the videos that are uploaded. The explanation also uses a lot of highlighted yellow text which if clicked takes the user to another page where they can find more details about the pictures. The links here are takes the user to enlarged pictures of what is being described. As scroll further down, you will find some of the women who are on the site and who love being cuffed and tease until they come.
Girls & Videos
These women are amateurs and it is their first time being tied. They are approached by the producer about getting tied and tease and being the horny sluts that they are they happily agree. Most times they are not sure what these means until they are tied up and gagged and wriggling from the pleasure of being teased so badly. Meet Bailey who was coerced into coming to the producers place. She was told upfront that she was going to be tied and this instead turned her up big time. She comes in one afternoon and the producer gets her to remove her dress and stay only with her top. He ties her and blindfolds her. Then he places a vibrating egg on her clitoris. She started shivering and before you could know what was happening, she was dripping wet. These are just some of the women you will get to meet on this site. Women that are tied and gagged are placed in a vulnerable position and they are more than willing to do just about anything you ask them to do.
The videos of these women being placed in vulnerable situations will definitely make you hard as a boiled egg. The videos are shot in high definition so when you watch them you feel as if you are actually in the room where the action is taking place. If you are a visitor to the site you can watch some of the teasers of the women being tied, teased and fucked senseless. However, as a full member you get access to all these videos. You can even download to watch later.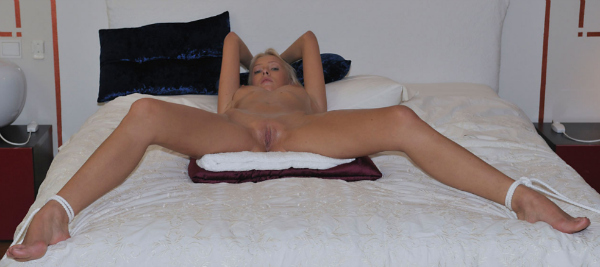 Conclusion
Claudes Sexy Settings is an excellent site that showcases women in constraints. On this site you will find some very wonderful videos f women tied, blindfolded and sometimes gagged. These women are later teased using different objects, dicks, dildos, vibrating eggs and a lot more. Before the video is even gone half way, they are having strings of orgasms.
Sexy Settings Discounts
If you like the scenes Sexy Settings brings you, you may be delighted to know that we provide you with a deal to access it, even though there are heaps of other websites offering top-notch deals for example on Dbestporn.com you can avail of an advantageous Sexy Settings discount and Bestpornpay.com as well offers great and big Sexy Settings discount.
Get your discount!
$8.32
instead of
$29.95