What Slutty BBWs offers you
Overview
Great BBW porn site, Slutty BBWs is jam-packed with juicy hardcore porn videos that will surely bring you that "extra" excitement! By extra, we're talking about stunning ladies with voluptuous tits and asses that you can devour in full HD and 4K resolution! This collection is a part of the Slut Inspection Network, a very successful project of real-life couple Dan and Suzanne Ferrari. Suzanne surely knows where the hottest BBWs are and she brings them home to her loving husband. Dan gets to do all he wants with these curvy girls and they always try the nastiest things in sex while Suzanne films everything. The escapades of this couple and their willing guests are being offered to you on a silver platter, so come at once and dig in!
Design & Features
When you open the official website of Slutty BBWs, you only need a few seconds to see that it carries the backing of a prominent video network. As it goes, it is a part of the Slut Inspection Network that is being managed by the Full Porn Network. If you are familiar with the latter's reputation in the adult entertainment industry, then you know that you can trust the quality of its offerings. The first thing you'll notice on the homepage are the latest updates. The prominent display of the hot BBW scenes encourages you to stay and explore. Each update is accompanied by eye-catching large thumbnails, giving you a sneak peek into the scenes before you click on the play button. This thoughtful feature allows you to make informed choices and make your viewing experience feel more personal.
The site's basic sorting options include popular categories like "most viewed," "upcoming," and "highest rated." If you're in a rush and want to save time, check the category list or go to the Model Index. There are also informative descriptions and relevant tags that can help you find the videos that best fit your taste faster and easier. And once you've found them, make sure to create a personalized playlist so you can easily access your favorites whenever you want to watch them again.
Girls & Videos
At Slutty BBWs, beautiful plus-sized women fully embrace their horniest desires and allow well-experienced lover Dan Ferrari to fuck them in ways they have never experienced before! Every scenario is unique and the only common ground is that you'll get to see Suzanne happily watching as her husband enjoys fucking juicy women. All the XXL models give blow-out performances and you really can tell that they've achieved what they came for in the first place. The videos boast an appealing average run-time of 25 minutes each, ensuring a substantial viewing experience whenever you're in the mood for some fapping sessions. You also have the flexibility to either stream the content online or download it for offline enjoyment, with your finest option available in full HD quality.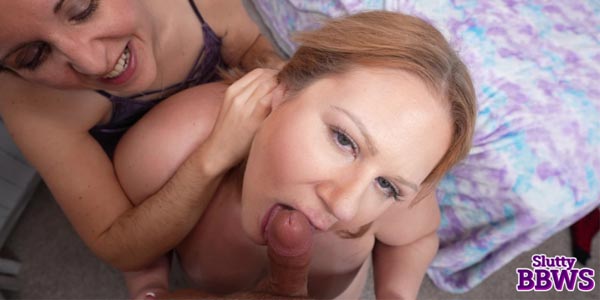 Conclusion
Slutty BBWs might not be the biggest BBW porn site today, however, it can easily make it to the list of the top 10 best BBW collections. This claim is confidently backed up by several reasons, including having the most in-demand BBW models in the biz, the sheer talent of the Ferrari couple, and the reputation of the one and only Full Porn Network in the industry.