What Stop Or I'll Squirt offers you
Overview
Female orgasms can be quite complex. And it is still a field, which is not explored to the hilt. Porn, which is available, show the women in the videos orgasming, but are they really orgasming, can you ever know for sure? Are you one of those men who love to go down on women and use your fingers at the same time? Do you love to see the expression on your woman's face as she is exploding with an orgasm? Does that sight make your cock throb? Does it make you then want to explode inside her give her more than just multiple orgasms? What is more than multiple orgasms? Squirting of course!
Imagine having a woman under you, exploding, by exploding I mean squirting and splaying you with her female juices, with an intensity that hits you like a gushing river. Would that not be a sight to behold? To be able to achieve that, and to make your woman experience that, isn't that an absolute dream? If your cock is rock hard by just the thought of it, or just imagining a woman squirting, then we have found you a complex niche site that gives you exactly this. Stop Or I'll Squirt is definitely the website for you as it explores all the different kinds of squirting that women can achieve.
This site is managed by the Kickass network known for all of their different kinds of porn sites. All of their sites have brilliant content, and most of them are based on the different fetishes that everyone has. They have a knack for finding these fetishes' and compiling these videos for you to make your fetish dream a reality. And Stop Or I'll Squirt is exactly one such website. The squirting on this website is as real as it can get. It is not like other sites where women are just squirting like a little fluid from their pussy in the name of squirting. Of course all women squirt different quantities of squirt juices, but this is definitely authentic and any squirt fan will be able to recognize that. So why stop here, enter the site and get your squirt-on!
Design & Features
As soon as you hit enter the first thing that will catch your eye are the images on the website. They are of a couple women squirting their minds out and all of them getting pleasured. As you scroll through the page you will realize that the page has been divided according to the hot models that they have available for you. And even glimpses of the other websites that fall under the kickass network that you can click on to explore. The layout is very simple and very user friendly. The colors used are the simplest that you would have probably seen on any website. It starts with a black, which then slowly transcends to a cream. The simple usage of colors is a brilliant move as it does now distract you, rather it helps you focus on the job at hand that is giving your cock the well deserved pleasure that it has earned.
Girls & Videos
Let us talk about the real juicy parts, and the juice of the matter! Stop Or I'll Squirt gets you real women who love to squirt and not any just fake pornography. Sure some of the chicks can squirt more than the rest, but the way it flies up in the air from their holes, it is definitely real. And it definitely does not get messier than this. There are a few really, really hot blondes with perfect perky tits and assess to compliment them. They are all pleasured using cocks, sex toys, tongues and even their own fingers!
One of them loves getting pounded in the ass, she loves it so much that she actually squirts while orgasming! She is Missy Monroe. She loves being fucked and pleasured with different sex toys as she comes closer and closer to squirting. There is all kind of porn that you can find on this website, in all of which the women are squirting.
There is also McKenzee Miles who loves to get fucked in her hot pussy with a massive cock, until she can't control herself and has to squirt all over. And, boy can she also deep throat with that sexy mouth of hers. And she has got a dirtier mouth; she absolutely loves talking dirty and totally gets off on it.
And how would you like a Latina in bed squirting for you? Isis Love is a blonde Latina. Can anyone get any hotter than this? And you do know the saying right, "blondes always have more squirt." She likes her perky nipples to be sucked on hard and rough, and to be fucked in her wet pussy so hard that she is screaming for more until she squirts all over the guy's dick. There are so many options for you in terms of women, that you would probably be spoilt for choice.
Also, the video quality in all of this content is all high definition. The clarity is so amazing that you will be stumped as to how clearly you can see her squirt out of her pussy. Also, the sound is really amazing and as a whole the experience is as real as it can possibly get! Also, the videos are configured to be compatible with all devices so that you can enjoy viewing these videos with your hands in your pants anywhere and everywhere at your leisure and convenience!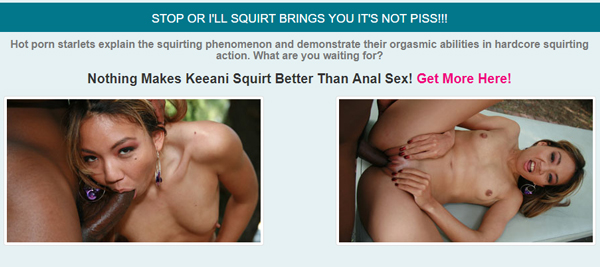 Conclusion
Stop Or I'll Squirt is an amazing website in terms of content. They upload pictures and videos on a regular basis. Also, the kind of variety and different porn that they provide you with is impeccable. So being bored here is not an option, and your cock will be in absolute dreamland. Also, the subscription deals are amazing, not only are they really attractive deals, but also they give you access to 20 other websites from the Kickass network. How sweet a deal is that!
Stop Or I'll Squirt Discounts
If you drool over the material Stop Or I'll Squirt has to offer, you should be excited to discover that we give away a voucher to access it, although there are different other sites offering valuable deals such as on Bestpornpay.com you can get a big Stop Or I'll Squirt discount and Bestpayadultsites.com likewise provides great and big Stop Or I'll Squirt discount.
Get your discount!
$18.30
instead of
$24.95